Hotel Bath Linen
DOUXE produces bespoke bath linen in Portugal of the highest quality. We know what makes a towel exceed all other towels. DOUXE towels are made with a zero twist, creating an ultra-soft touch to the skin. With a weight of 700 GSM the towels feel weighty and luxurious.
Tailormade
Your hotel towels can be made to your wishes. Choose your preferred size, color and design.  Crisp white is the most popular choice for hotels and interior designers, due to the fresh look and feel but also due to the fact that it is easily cleaned. However, the current trend shows an increasingly higher demand for specific colors. We can die your hotel towels, spa and beach towels in any pantone color and personalize your towels with your logo by embroidery or embossing.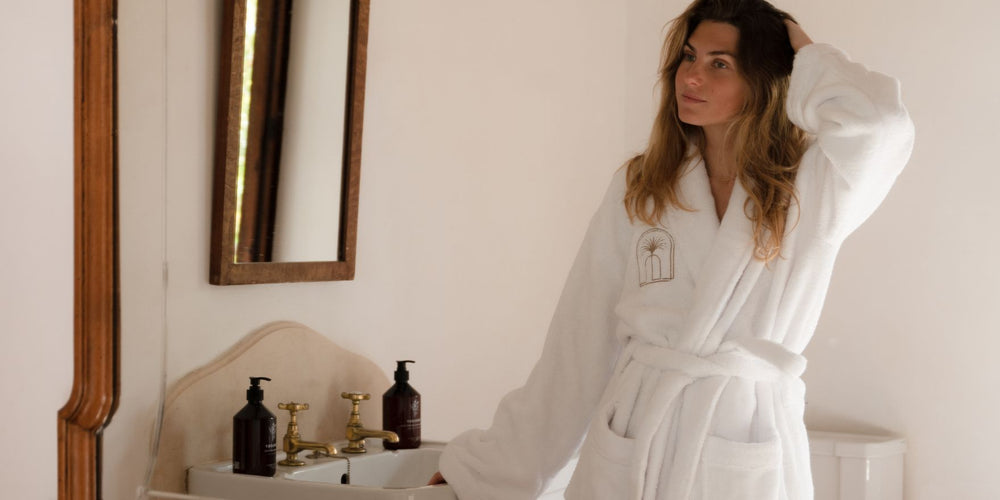 Accessories
DOUXE is your destination for bath & spa accessories but also decorative pillows that match the headboard or the style of the room. We have created bespoke decorative pillows for boutique hotels giving a new and unique vibe and atmosphere to every space. The options are endless. Let us inspire you with our designer fabrics.
Bathrobes & Slippers
There are many styles possible when it comes to bathrobes and slippers. We have developed spa accessories in all styles and colors. In our DOUXE collection you will find a selection of waffle and zero twist bathrobes that are extremely soft to the touch. The DOUXE down boots have been especially developed for hotel spas to keep the guests feet comfortably warm during spa treatments. Many hotels use the Down Boots as a VIP gift and for this purpose we can personalize the label and packaging specifically for your hotel.